Behchoko at the Oilers First Shift Program
---
---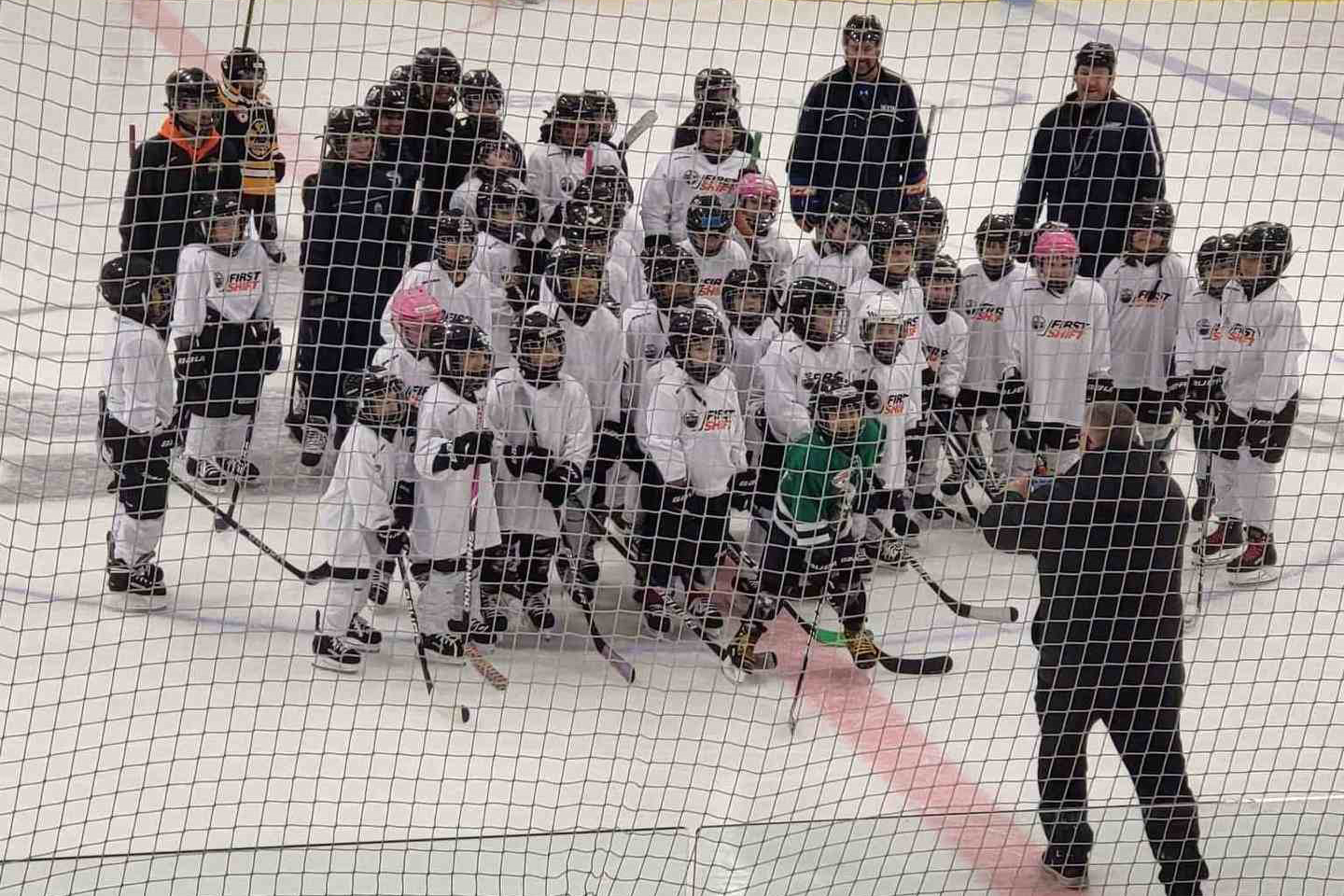 ---
It all started with Blu Lafferty who won the Signed Connor McDavid Puck at the welcome and fitting day of the Oilers First Shift Program. A total of 9 youth from Behchoko joined this amazing initiative.
Blu Lafferty
Keira Camsell
Rory Rabesca
Iris Rabesca
Calem Cochrane
Kali Cochrane
Khloe Tinqui
Daphanie Mantla
Chaeli Bonnetrouge
We took some time to talk to Mercedes Rabesca, who was one of the supporters of the program.
How did you get to Yellowknife with the kids? We utilize one of the local transportation businesses called, "Northern Exposure" to help bring the youth into town, each Saturday. Dave Wilson has kindly helped us organize and provided drivers. Rueben and Daniel provided vehicles to help with transportation.
What was your expectation going into this? I didn't try to hold any expectations, as I wanted to keep an open mind. As hockey is new to the Youth, it is also new for me to bring them to practice and organize a hockey trip. Hockey North has been more than helpful, supportive, and very patient with me. I was nervous on the first day and I didn't know what to expect. I do not know what the "Common Sense" of bringing youth to practice is. Some parents have their youth all geared up before entering the facility or taping hockey sticks, and how much time I would need to assist the youth with their hockey gear. So far, we learned quickly what works for us and adapt, and their parents have been rock stars and helped me with the program.
Why do you think it is so important for your kids to participate in this program? Behchoko has not had a Minor Hockey program for many years. We do have the occasional hockey clinics and drop-in programs, but not a minor league-type program for hockey. This gave the youth the opportunity to try out hockey and the parents to experience how a hockey program works. This also provided experience for me on how to execute and potentially develop a hockey program back home, with the help of community members, of course! Hopefully, we can develop a wonderful program together and build the capacity of players and coaches. Behchoko has many talented Youth and Adults who love and play Hockey! I thought this program was wonderful for the Youth who are completely new to hockey to get the experience to play and learn about this sport.
What did the kids think about their first on-ice session with the program? The youth enjoyed the hockey experience, overall. We had a few youths who needed extra time to skate, as they weren't comfortable yet. Their experience was much better, once they understood that they were other kids like them who struggle to skate too. They felt safer to try and attempt and be okay if they didn't get it the first time. I mentioned to one of the kids, that she was a fast skater and she replied, "I didn't know how to stop so I kept skating" haha. She mentioned she was going to ask the coach to teach her how to stop the next on-ice session. In each session, the youth were happy and exhausted from all the fun they had!
Quotes from some of the participating athletes.
Calem: "it's my first-time playing hockey, and I had tons of fun"
Daphnie: "I didn't know I could skate while holding a hockey stick and I was really fast!"
Rory: "I'm still learning how to skate, but I like it"
Khloe: "We're busy Saturdays, I got hockey"
So great to see the youth, parents and supporters come out for making a difference and showcasing their amazing talents. Everyone that participate wante to give a HUGE thank you and recognition to the Tlicho Government - Community Wellness Department that assisted on provided transportation and lunch for the youth while attending the Oilers First Shift Program.